At CMM Inspection Services we can help you be competitive by employing the most useful process control tool available, SPC. Of the many SPC software packages on the market, DataPage has proven itself to truly be shop floor hardened. We have found it to be an invaluable tool for all kinds and sizes of manufacturers ranging from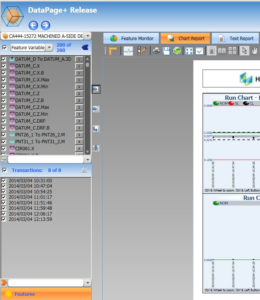 small shops making simple parts to the largest Aerospace, Defense, Medical or Automotive nationals performing the most complex operations.
DataPage grows as you grow. As your company expands and matures, your uses for SPC will naturally become more sophisticated. At first, you may only need basic capabilities that help identify trends before they become problems. But a time goes by and requirements change, you'll want to be able to use SPC to get a fuller understanding of your shop's processes.
The last thing you want is to have to learn a new SPC package as your needs change, and DataPage solves this dilemma. DataPage is a complete SPC tool set. The basic package offers a complete set of tools for analyzing data and generating reports. It conforms to industry standards as it calculates, and it precisely presents information.
We're experts at DataPage, and can also help with a variety of CMM programming needs. If you require services not listed on our website, please call to discuss.
Contact CMM Inspection Services for DataPage Data Collection Configuration in Denver and Worldwide – 303.229.9143